Bread is at the core of everything we do at Panera Bread®. We start with fresh dough baked every night in every bakery-cafe by skilled bakers. The care and craft we put into our bread then translates to the unique and flavorful soups, salads and sandwiches we serve. With antibiotic-free chicken, free Wi-Fi and a cozy place to sit Panera is a neighborhood gathering place where you can relax. And each night we donate our leftover baked goods to local non-profit organizations in need. Visit www.panera-chicago.com for more information.
Help support Make-A-Wish!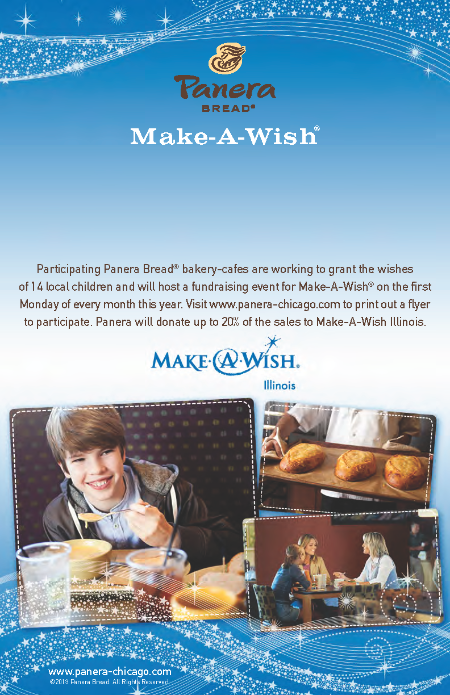 Help support Make-A-Wish at Panera Bread on Make-A-Wish Mondays! The Deer Park bakery-café, located at 20530 N. Rand Road, is hosting a fundraising event for Make-A-Wish on the first Monday of every month in 2013 to help grant the wish of a local Grayslake child named Deante. Visit www.panera-chicago.com for details and to print your flyer to participate.
store information

| | |
| --- | --- |
| | In Location 448 |
| | 847-540-8425 |

Monday-Saturday: 6:00am-10:00pm
Sunday: 7:00am-9:00pm.
Visit Panera Bread Online
Take the guesswork out of gift giving. Share warm wishes and good taste with family and friends, or better yet, yourself. More convenient than cash, the Panera Card is accepted in our bakery-cafes nationwide, and can be reloaded online. You can even set up your Panera Card to reload automatically whenever your balance is running low, making sure you're never a dollar short of a latte.
Save