Visits with the Bunny
Saturdays in April through April 19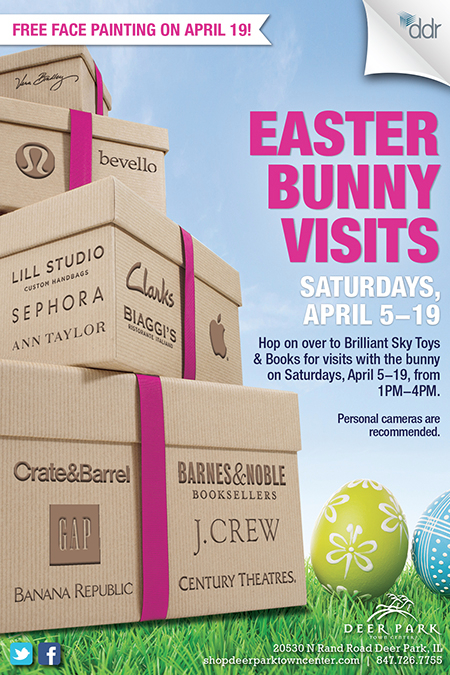 Visits with the bunny at Brilliant Sky Toys & Books begin on Saturday, April 5th and will continue on Saturdays only through April 19th. Families are welcome to bring their own camera. Stop by Pandora and have your face painted like a bunny and hop around Deer Park Town Center for a day of family fun!
Plus on April 19th, shop Gap Kids for family fun! Kids will enjoy drinks, snacks, balloons, an ongoing Easter Egg hunt, coloring, and bunny ear giveaways.
E-Cycling & Shred Event
Saturday, April 19th 9am-1pm
ELECTRONICS ACCEPTED
Computers & Peripherals

Computers

Main Frames

Modems

Printers

Monitors

Terminals

Tape Drives

CD ROM Drives

Plotters

Mouse

Keyboards
Scanners

Cables

Office Equipment & Products

Telephones

Phone Systems

Answering Machines

Typewriters

Calculators

Shredders

Adding Machines

Fax Machines

Copy Machines

Cellular Phones

Pagers

Postage Machines

Credit Card Machines

Projectors

Small Home Appliances & Home Improvement Products

Microwave Ovens

Rechargeable Batteries

Power Tools

Electric Motors

Tape Recorders

Coffee Makers

(no glass)

Blenders, Mixers, etc.

Humidifiers

Home Entertainment and Other Items

TVs

VCRs

DVD Players

Stereo Equipment

Video Game Players

Joy Sticks

Cameras

Camcorders

Disks

Video/Audio Tapes

Software

CDs & DVDs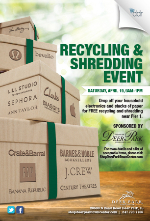 Summer Sidewalk Sale
Friday, July 11 - Sunday, July 13
During all mall hours beginning at 10am on Friday, July 11th.
Jazz Patio
Saturday, August 9th, 2-8pm
Chicago, IL— Drum virtuoso and long time Smashing Pumpkin, Jimmy Chamberlin, joins forces with platinum selling saxophone powerhouse, Frank Catalano to headline the 3rd Annual Deer Park Jazz Patio and Wine Festival August 9, 2014 at the Deer Town Center, 20530 N Rand Rd in Deer Park IL.
Both musicians pull from their past influences and experiences to create a sound that can best be described as a high energy jazz /rock with elements of soul and ambient undertones. Performing original compositions, experimental music, with a few classics in the mix, the Catalano/ Chamberlin band forges new sounds while drawing from the past.

Frank Catalano, now 36 years old, has been described by Down Beat magazine as "John Coltrane energy for the 21st Century". Catalano is the only known saxman to have played with Miles Davis, Randy Brecker, Charles Earland, Elvin Jones, Stan Getz, Betty Carter, Von Freeman, Tito Puente, Tony Bennett, Les Claypool (Primus) and Louis Bellson while still in high school! This led to his signing to Delmark Records at age 18 and a string of critically acclaimed recordings. Catalano has been heard by millions of people all over the world thanks in part to 3 Grammy-winning and 11 Grammy-nominated recordings with artists such as Jennifer Lopez, Destiny's Child, and John Legend. His past 2 solo CD's for the legendary Savoy/Columbia Label have topped the Billboard sales charts.
Jimmy Chamberlin, for over 15 years, was the driving engine behind the super group the Smashing Pumpkins, earning him the respect as one of the most popular and influential drummers in rock music history. With the Smashing Pumpkins, Chamberlin re-defined the way rock drumming was conceptualized while creating his own signature sound that can be heard on multiple Grammy and American Music award winning recordings. Jimmy has been seen on multiple MTV Music Video Awards and the cover of Rolling Stone Magazine. Chamberlin also collaborated with Billy Corgan on his solo recordings and with the band Zwan. Chamberlin enjoys performing with his solo project called the Jimmy Chamberlin Complex.
Artumn Harvest
Saturday, September 13 & Sunday, September 14
Please contact D & W Events to become a part of the artist line-up. http://www.dwevents.org/artists.html
Saturday, September 13, 10AM-5PM
Sunday, September 14, 11AM-5PM
Fall Festival
Saturday, October 25, Noon
Saturday, October 25
Trick-or-Treat begins at noon